Clearly, many kamra-e-faoree photographers are versed in more types of photography than the kamra-e-faoree. Here are some of the old cameras we found the photographers had been using at one time or another in their careers.
..
Taking photographs like these.

| | | | | |
| --- | --- | --- | --- | --- |
| | Polaroid film. | 135 colour negative film. | | Rollfilm with 6x6 camera. |
..
And being an adaptable craft it's not surprising that the kamra-e-faoree has found more uses other than being used exclusively for identity photographs. Afghan clients sometimes obtained kamra-e-faoree photographs as mementos, having portraits made of themselves with friends and family, like this one below.
........

Courtesy of Fading Afghanistan

©

.
Passing foreign photographers, photojournalists and the odd tourist also had photos taken with the kamra-e-faoree. Here's a box camera photograph of two Dutch tourists in Kunduz, Afghanistan taken in 1969.
Courtesy of

Ewald Vanvugt/Collection International Institute of Social History, Amsterdam, The Netherlands ©.
This photograph of a British tourist in Kabul was taken over thirty years later in 2006.
Courtesy of

Adam K. Ashgar ©

.
While some kamra-e-faoree photographers using techniques of montage and collage that are replicated widely in both earlier large format hand-coloured photography and contemporary Afghan digital photography, have turned the camera on their own families to thrilling effect.
This montage (from circa. 1950s) belongs to collection of Abdul Satar and is of his father. Naturally enough, he keeps it as a memento in his family album.
........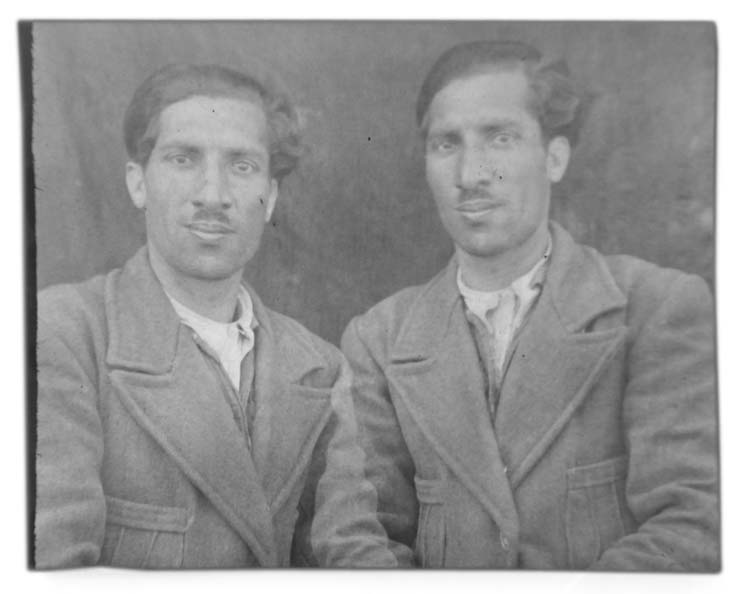 But any image, regardless of its original purpose, can be a memento.
In 1996, the photographer Fazal Sheikh traveled to Afghan refugee camps in northern Pakistan where he was told the stories of Afghans who had lost loved ones during the Soviet invasion and the subsequent civil war. Some of the refugees possessed photographs of those they had lost; some were taken with a kamra-e-faoree.
Below, Qurban Qul, one of the Afghans Fazal Sheikh met in northern Pakistan, holds a kamra-e-faoree photograph of her son Mullah Awar. He was killed fighting with the Mujahedin in 1986 when he was eighteen. Fazal Sheikh's touching film The Victor Weeps can be seen here.
Courtesy of Fazal Sheikh

©

.
With war raging in Afghanistan since the Soviet invasion in 1979, colossal numbers of Afghans received war-related injuries. Sometimes they needed photographic proof of their injuries to claim benefits and medical attention from the clinics and organisations operating to help them. One such victim who lost an eye fighting against the Soviets was Mullah Omar, the present leader of the Taliban.
Here's a kamra-e-faoree photograph of Mullah Omar from 1993 (verified by Pakistani intelligence).
Mullah Omar's (alleged) portrait may seem at odds with the commonly held view that the Taliban were fundamentally opposed to the depiction of the human (and animal) form - in any shape of manner. It certainly is at odds with the following Taliban edict from 1996 reprinted in Ahmed Rashid's book Taliban (Rashid by the way stressed that any typos which appeared in the list of decrees in his book were the Taliban's and not his.)
......
However, kamra-e-faoree photographers were allowed to operate in Taliban controlled Afghanistan - even if, as the accounts we received testify, they at first met with beatings and intimidation until the Taliban finally relented allowing kamra-e-faoree photographers to work unhindered.
Here's a picture of a kamra-e-faoree photographer taking a photograph in March 2000 during the Taliban-era in in Kabul.
Photo by Alan Edelstein published in Transition 2007

.
The image is a frame-grab from the video camera of Alan Edelstein, an American film-maker, who was in an odd as well as precarious position whereby the Taliban had given him permission to carry a camera in the country but not to use it which they considered "unIslamic" – but of course he did (surreptitiously).
Ultimately, the services of kamra-e-faoree photographers were needed by the Taliban to produce a variety of photographic identification – sometimes for Taliban themselves. Indeed after their fall, files containing images of Taliban recruits were found in the Ministry of the Interior in Kabul.
It should be noted that the Taliban stance on photography was not necessarily the only or the greatest challenge to kamra-e-faoree photography. The infighting of various Mujahedin factions and warlords for control of the country after the Soviets left in 1989 wreaked havoc in Afghanistan. Kabul was a major centre of the conflict and saw a brutal period of bombardment which at its height was estimated to have killed twenty-five thousand civilians.
Many photographers in Kabul had their studios destroyed or looted during this time. Those who survived and stayed on often lived in atrocious conditions.
Though as the photograph below of photographer Ghulam Ahmad taking a picture of little Yaido testifies, life did continue. The photo was taken in Kabul in 1996 before the Taliban took control.
Photographed by Tony Ashby and published in the Western Australian 1996

.
Since the 2001 invasion of Afghanistan by the United States of America and their allies, and the subsequent fall of the Taliban, there has been a huge increase in demand for photography in Kabul.
Reports suggest that kamra-e-faoree photography actually flourished in the years immediately following the invasion. Photo-studios too certainly wasted no time in cashing in on a demand for personal and family portraitures. But the last decade has also marked the beginning of the end for kamra-e-faoree photography; since 2006 in particular the numbers of photographers has dwindled so rapidly that by June 2011 there were only two kamra-e-faoree photographers working on a daily basis in Kabul. In 2012 there were none.
There are a number of reasons for this.
While the rapid rise of digital photography and the spread of modern photo-studios has played a major role in overshadowing the use of the camera, so too has the difficulty and expense in sourcing materials, particularly photographic paper and chemicals.
Here's a picture from Rohullah, a Kabuli kamra-e-faoree photographer, in 2011; he's holding one of his few remaining packets of Lucky photographic paper (a Chinese brand); Rohullah told us at the time that when his stock of paper runs out he would have to look for other work.
......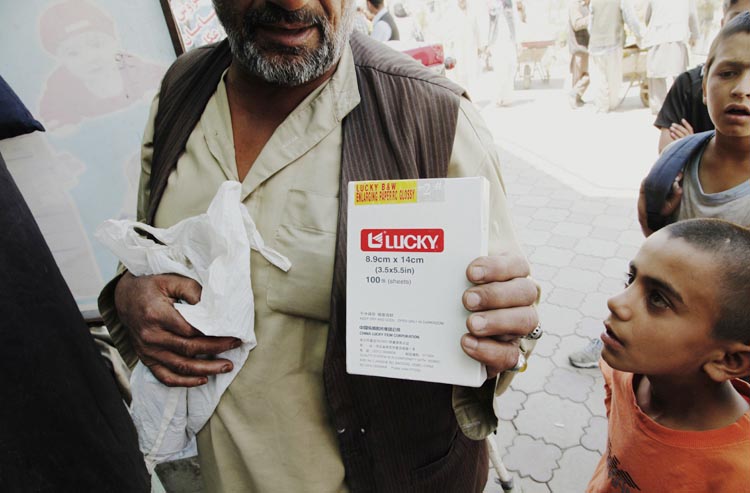 Within the year Rohullah had moved outside of Kabul to open a grocery store. His pitch had been taken over by a perfume seller, shown in the photo below.
......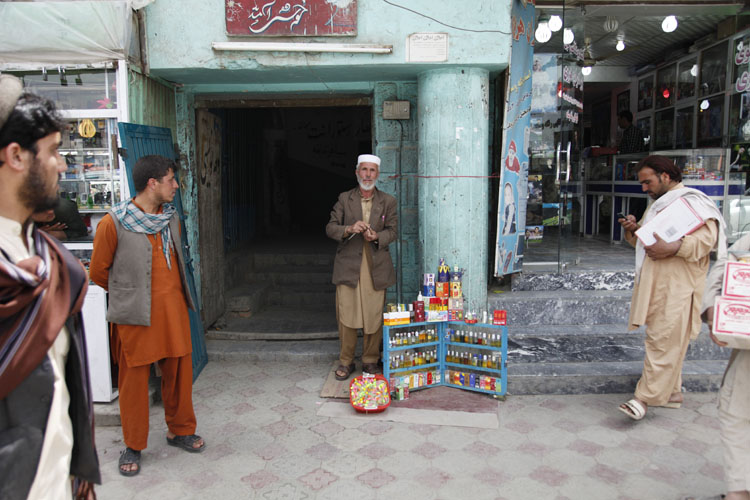 Security has also been an issue.
Many box camera photographers worked in and around an area known as Passport Lane close to both the Indian Embassy and the Interior Ministry.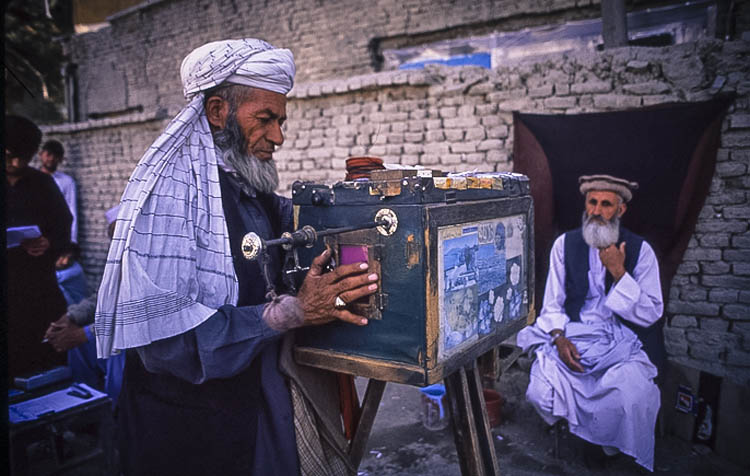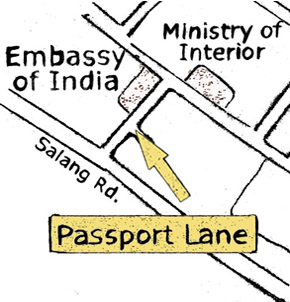 A photographer at work in Passport Lane, 2002. Scribes can be seen working in the background. Courtesy of Dave Banks ©.
Following bomb attacks targeting sites such as the Indian embassy in Kabul in 2007 and 2008, an increase in security measures has meant that many kamra-e-faoree photographers taking photographs intended for visa applications were denied access to their regular pitches in the area around Passport Lane. This is a pattern that has been replicated throughout the city.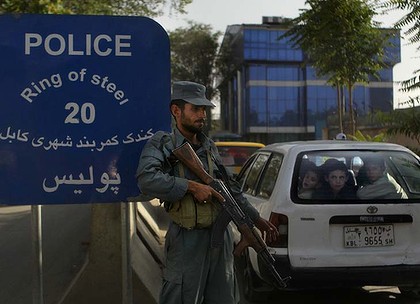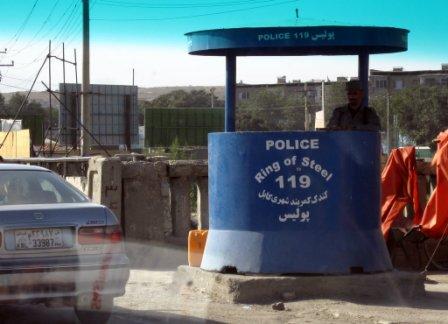 The 'Ring of Steel' is a series of Afghan National Police checkpoints around central Kabul. Images (L-R): © Sydney Morning Herald; © BBC.
Others reportedly lost their lives in these explosions.

.......................Source: EURONEWS
Another reason for the decline of the kamra-e-faoree is that government offices began to demand colour identity photographs for official paperwork, and no longer accepted black and white photos. In addition authorities pursued a policy to clear the pavements of obstructions, which effected street vendors of all kinds (see Muhammad Ishaq's portfolio).
Nowadays, kamra-e-faoree – or rather defunct examples of the kamra-e-faoree - play another role on the streets of Afghanistan: advertising the services of photo-studios and digital photographers. In a country where the illiteracy rate is so high, visual indicators displaying commonly-used services are important, or as one shop owner put it: "For the village people, because they can't read."
The Ariana Studio in Kabul is one such case, located between a tea shop and a hamam (bathhouse).
In Mazar-e-Sharif we found the kamra-e-faoree more widespread as a service-advertisement than in Kabul. Here's a picture of an old kamra-e-faoree from outside the Tagin Photo Studio in Mazar-e-Sharif. Photocopy is written on the side, advertising photocopying services inside the studio.
..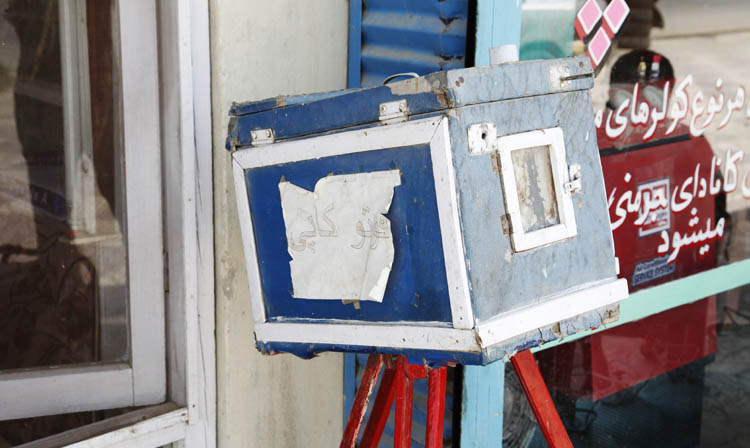 Many of the kamra-e-faoree in Mazar-e-Sharif were also noticeably smaller than those in Kabul. Below: a compact kamra-e-faoree outside Zia Uddin's photo-studio in Mazar-e-Sharif.
..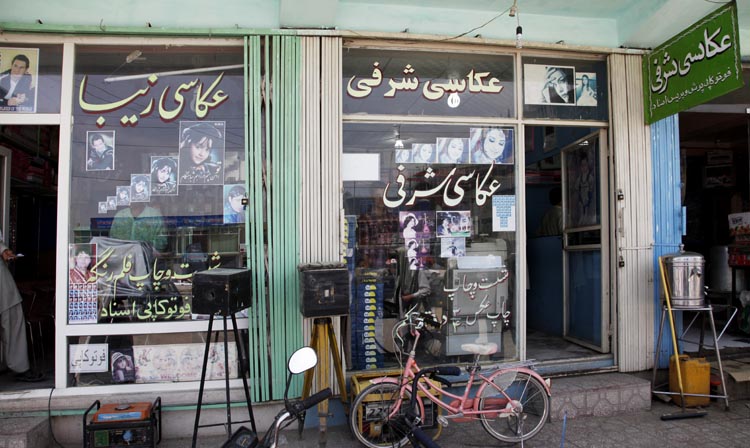 While some of the studios even build cheap mock-ups of the kamra-e-faoree, as can be seen from the model camera outside Saif Fardin's Photo Studio in Mazar-e-Sharif.
Photo-studios in Afghanistan are at present almost exclusively digital. The services they offer include the digital manipulation of old kamra-e-faoree photographs which customers bring to get restored, repaired, enlarged and sometimes coloured: it's where kamra-e-faoree meets the computer software Photoshop. This is a short video of Asad Ullah reworking an old box camera photograph on his computer.
The majority of the subjects in these photographs are deceased; they are the relatives of Asad Ullah's costumers who have brought them to be repaired. The gallery below is composed of more of these photoshopped images.
At the same time as using the box camera, kamra-e-faoree photographers adopted digital technology. Hanging above Qalam Nabi's kamra-e-faoree in 2011 a sign advertised his secondary enterprise.
Electronic photographs.
A contemporary rebirth of the kamra-e-faoree as seen at least on one photo-journalism course in the capital has been to teach Afghan students the basics of photography, before tackling the use of digital cameras. The course was organised by the media organisation AINA in Kabul.
........................................

........................................© AINA

Many kamra-e-faoree have also found their way into the hands of the large international community in Afghanistan who purchase them as a quintessential Afghan souvenir of their stay. Here's a French expat in Kabul in 2011 learning how to use the kamra-e-faoree. He just bought the camera and it's his very first time peering through it.
.....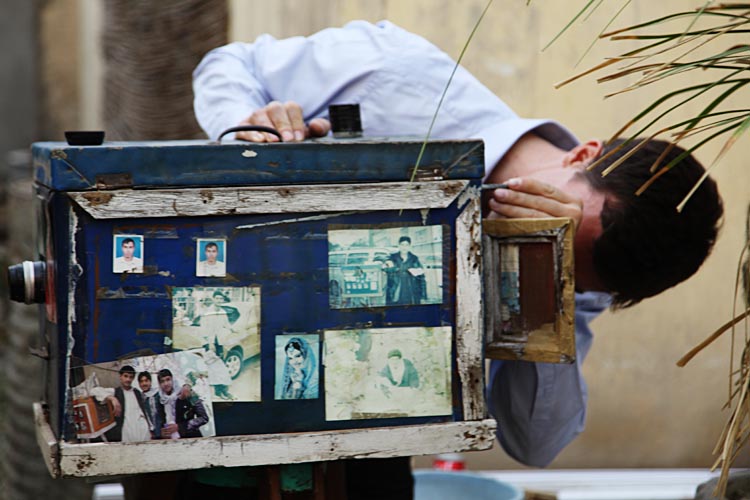 Some foreigners immerse themselves in the camera. Below are images from Aurélien de Saint André and Molly de Saint André's photographic odyssey between Afghanistan and France with a kamra-e-faoree. Aurélien can be seen photographing two policemen on the Greek-Albanian border; directly beside this is the resulting positive image, which Aurélien has made by digitally photographing the negative and inverting it on his computer.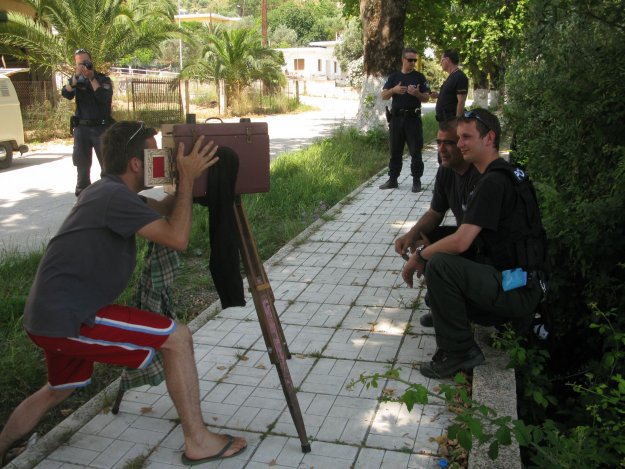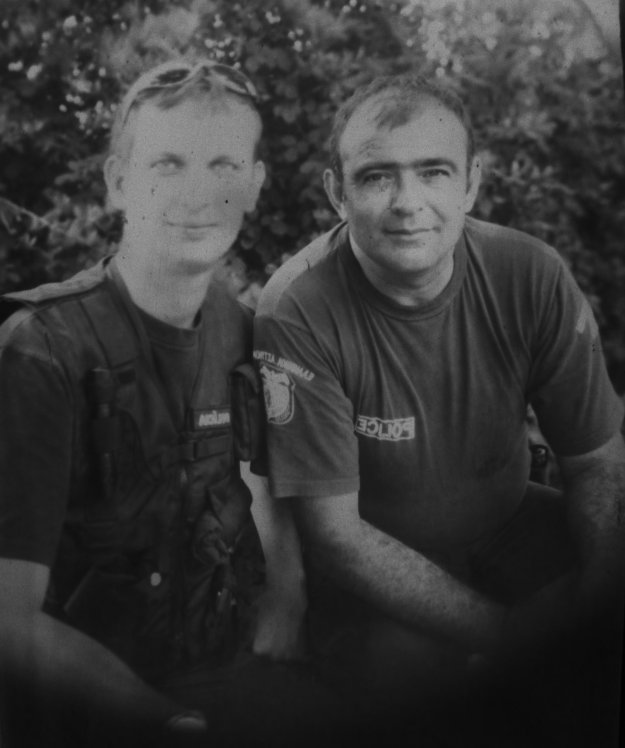 Courtesy by Aurélien de Saint André and Molly de Saint André ©.
And a wonderfully symbolic picture of Landry Dunand, another French national, cycling through the streets of Kabul on a summer's night in 2010 shouldering a newly acquired kamra-e-faoree which is destined to exit Afghanistan.
Courtesy by Landry Dunand

©

.
Some expatriates living in Kabul have hired kamra-e-faoree photographers to take portraits at farewell parties. The image below shows Mirzaman taking a box camera photograph at an expat farewell party in 2012. It was the first time he took box camera with artificial lighting - and he says all went well.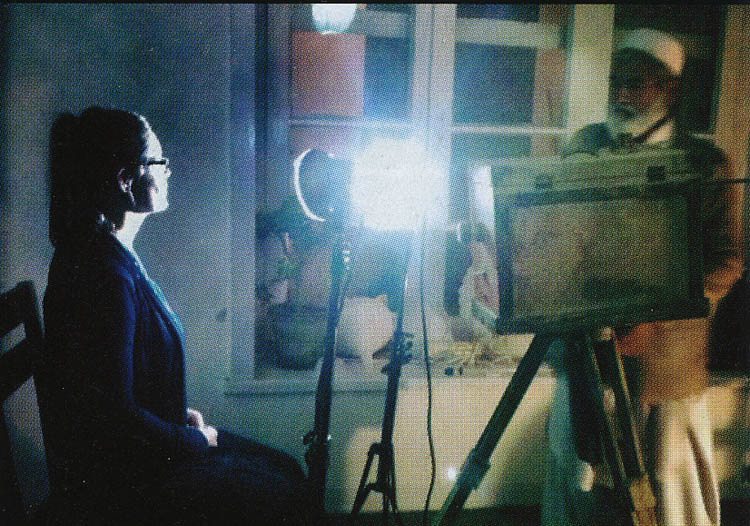 Source: Afghan Scene.
The box camera photographs below were taken at the 'Retreat from Kabul' farewell party of journalist Jerome Starkey and companions who were leaving Afghanistan after four to five years residence.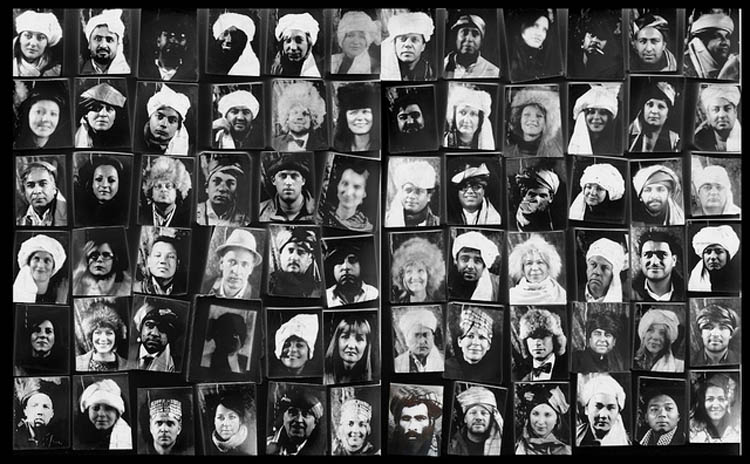 Courtesy of Jerome Starkey ©.

To finish up, here are some stills of Qalam Nabi, one of the last kamra-e-faoree photographers in Kabul, working from the same street pitch that he worked from all of his life, and his father before him.




In May 2012, according to reports, Qalam Nabi had gone to London to look for work.
.....................................................