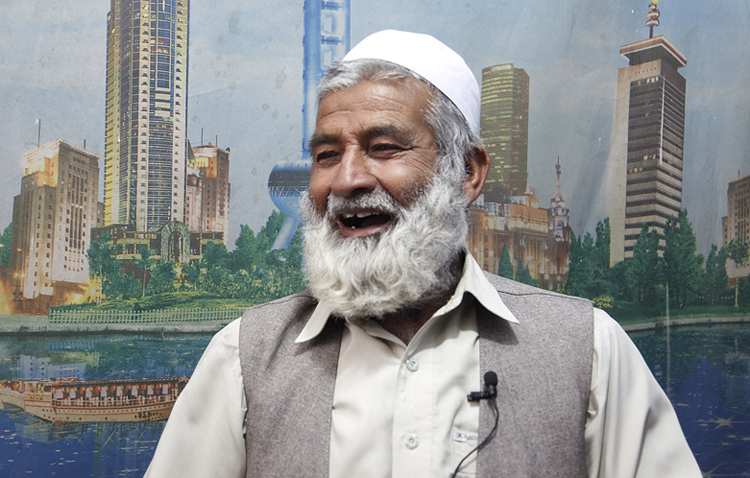 Haji Mirzaman, 60, is clutching a photo of Haji Ahmadin Taufiq which he kisses exuberantly and with a huge smile on his face. He hasn't seen Ahmadin in years. They used to have photo studios on the same street - and he is very excited at the portrait of Ahmadin we have brought along.
"Ahmadin Taufiq used to have pigeons," Mirzaman shouts, "and Zia Uddin Taufiq (Ahmadin's brother) had 150,000 Afghanis worth of pigeons!" Below: Ahmadin Taufiq in his rose garden and a photo collage of his pigeons which hangs in his house.
| | | |
| --- | --- | --- |
| | | Then Mirzaman sees the portrait of Muhammad Usman and his brother Asad Ullah and starts chuckling. He tells a tale of how years ago an apprentice of Muhammad Usman offered to sell him a box of cut film negatives which in actuality was filled with photo paper - it caused an almighty rumpus between himself and Muhammad Usman, he says laughing, but it all turned out in his favour. |
When Mirzaman was fifteen he started working in his cousin Gul Afghan's Maiwand Studio near Cinema Pamir (Gul Afghan it turns out was taught by Ahmadin Taufiq how to use the kamra-e-faoree). Later on he opened his own studio in downtown Kabul; it burnt down during the civil war. During the Taliban times he farmed his land on the outskirts of the capital and took his photo equipment with him for safe-keeping. It wasn't until Karzai came to power after 2001 that he opened his present studio in the Kart-e-nau area of Kabul.
Mirzaman has taught all of his four sons photography on the kamra-e-faoree - they all started out so small they had to clamber up on a chair to reach it. His sons Farhad and Farit have their own studios, while Fardin works as a professional photojournalist. Farshad, his youngest son, taking the photo below, works with his father.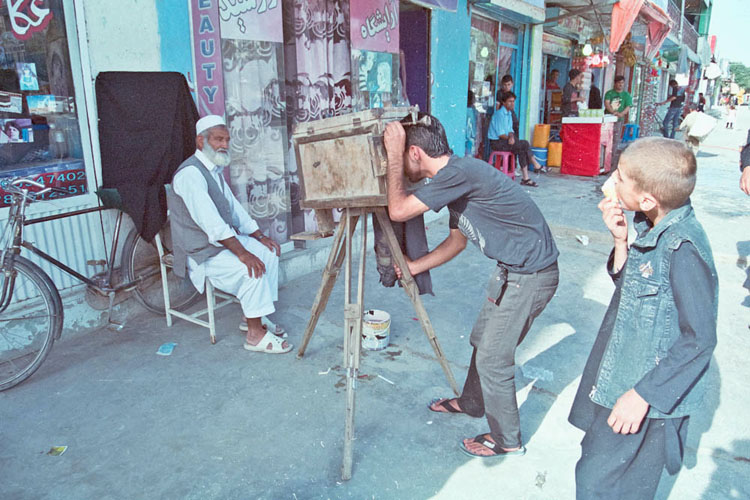 Mirzaman stopped using the kamra-e-faoree for daily business one year ago, but he still stands one of his old box cameras outside his studio to advertise business; and he's also had some work with the camera at an expatriate farewell party.
A video of Mirzman using his kamra-e-faoree to photograph multiple negatives at the same time can be seen here.