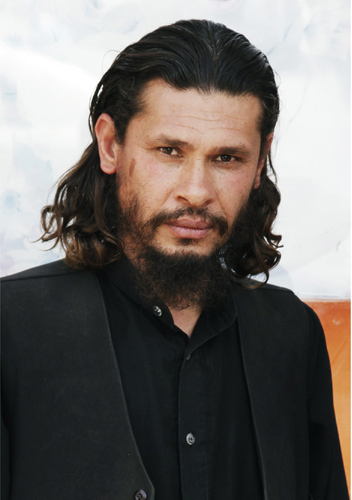 Only half of the sign over Jahid's photo studio can be read, the other half went up in flames a year ago when a fire spread from the shop next door. The interior is, as a result, a shell: the walls are blackened, the 'classic' photographs were burnt to cinders; the multi-coloured curtain parting the studio contrasts with all it divides.
Jahid's Photo Studio originally belonged to Jahid's father, Rezashah Jahid, who studied Islamic philosophy in Cairo as a young man. As well as being a philosopher and photographer Rezashah had other talents.
"He invented things," Jahid tells us. "Three things."
The first was a small semi-automatic gun, like the Russian TT – Rezashah's weapon even had a silencer, his son explains. The second was the first chicken incubator in Afghanistan. The third was nothing less than the kamra-e-faoree.
Rezashah Jahid can be seen in the photograph below (far left) taken at an exhibition in Kabul in the 1950s, with Zahir Shah (centre-front) and Marshal Shahwali Khan (right).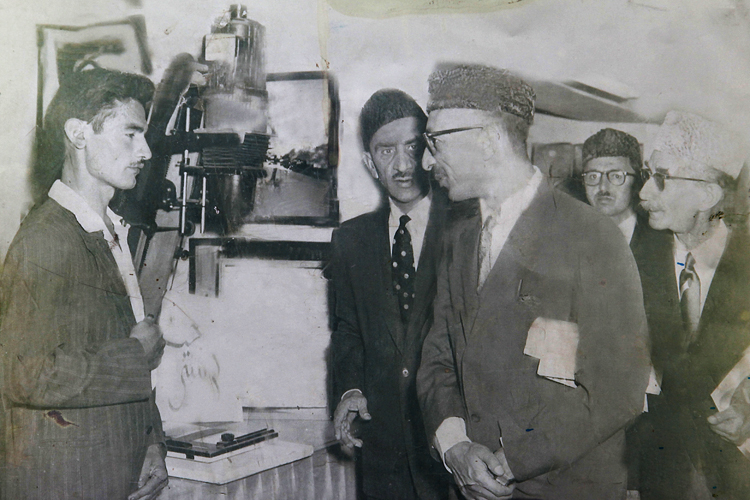 .
Rezashah had one studio in Kabul and two in Herat in the Pay-e-hasar area, the bustling downtown locale overlooked by the citadel and the one-time heart of box camera photography in the city. Photographers like Ghulam Hassan (see Nasar Ahmad Abasi's portfolio), Asgar, Mamood, Wakil Ahmad and Aref worked left and right of his shop.
Taken almost thirty years apart, these photos below show two box camera photographers at work in Pay-e-hasar on the left side of Jahid's studio - when you have your back to the citadel.
| | | |
| --- | --- | --- |
| Pay-e-Hasar circa. 1978. Courtesy of Frank Ward ©. | | Pay-e-Hasar 2009. Courtesy of Nigel Lendon ©. |
Rezashah taught Jahid how to use the box camera, which he could photograph up to eight negatives at one time on (see a video of the process here). "That's three hundred in one hour!" he boasts. He stopped working with the camera eight or nine years ago.
Jahid also worked at large format portraiture and hand-colouring. He takes out an old box of oil paints and a dusty German Compur large format camera. The bellows held together by tape, the shutter still working, it makes him recollect.
"My father had a cat that he trained to stand on its hind legs and press the shutter button on a camera like this," Jahid says.
"Why?"
"Just for fun."
And he continues.
Jahid worked on large format cameras during the Taliban times, along with roll film cameras and the kamra-e-faoree. The Taliban imposed restrictions on his work, particularly when it came to photographing women, who needed to have their husband or other male relative present to have their photograph taken. In case they didn't there was usually a young boy on hand in the studio who would play the role.
A few days later we return to Jahid's shop, enquiring with some uncertainty whether his father had "copied" or like he said, "invented" the TT gun, the chicken incubator and the kamra-e-faoree.
Jahid's answer was this:
"If you can imagine the story about the cat," he says, "you can imagine that he invented those things!!"