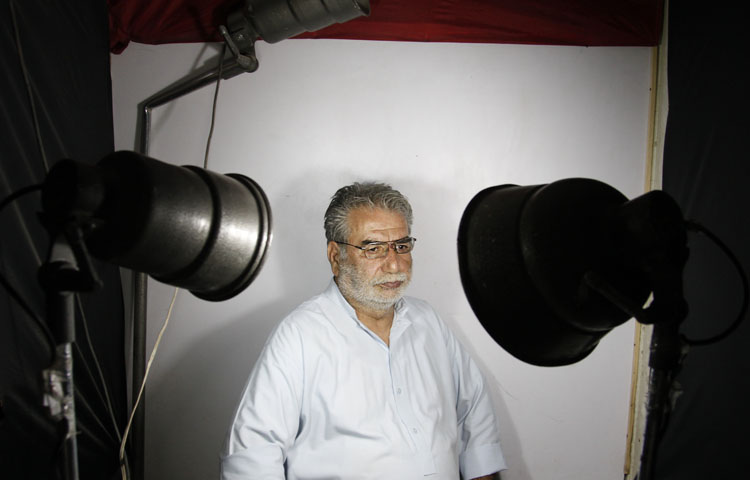 Nasar Ahmad Abasi is sitting in front of two scanners in a darkened corner of his basement studio. Taking a thirty-seven year old black and white photograph of an anonymous box camera photographer in his hand, he stares at it and says: "Where did you get this? I am the cousin of Ghulam Hassan, he was my teacher."
Here's a painting we had made of a photograph of Ghulam Hassan taken by Elliot Erwitt in Herat in 1977.
...................................................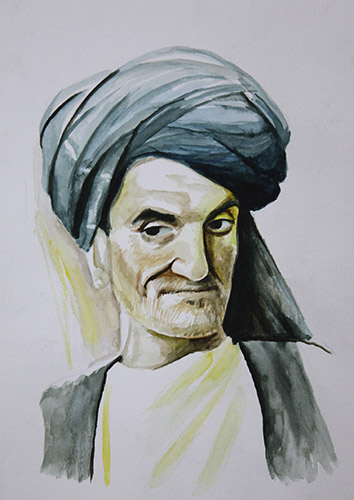 Ghulam Hassan worked as a box camera photographer around the area of the citadel in Herat since at least the 1950s. After Nasar Ahmad's first box camera teacher, Khalifah (boss) Asgar, passed away, Ghulam Hussan took on the eight-year old boy as an assistant. Nasar Ahmad stayed with him for the next ten years.
"You are bringing back memories from forty years ago," he says still staring at the photograph.
At sixty-six, Nasar Ahmad has had the same studio in Herat for over forty-five years. Its beginnings were humble. There was only a kamra-e-faoree standing outside at first, the inside was used for storing materials.
At times the studio has been closed. Nasar Ahmad spent two years in Kabul where he had a photo studio in Kote Sangi, which he opened after his military service over thirty years ago – and from Kote Sangi he remembers the photographer Abdul Satar as a little boy. On leaving Kabul he worked in Mashad, Iran for four years in the Bahar photo studio.
At one point Nasar Ahmad proudly displays his middle finger on his right hand. "This is the finger that painted," he says.
Nasar Ahmad was taught large format photography and handcolouring by Ustad (teacher) Mozzafer, his third mentor, who would later become the head of the photographer's association in Herat. Nasar Ahmad calls large format cameras 'Fanus' cameras – fanus means 'lantern' in Dari.
As we are about to leave his studio, Nasar Ahmad tells us a foreign woman visited his shop last year and asked him which was the moment that he was first touched by photography.
"When I first put my arm in the sleeve," he replied to her, "that was the moment I was first touched by photography."
So we ask him has he any other memories he would like to share.
He travelled to Gaebriel once just outside Herat by bicycle and swerving in the road his box camera fell and broke - he only realised it two weeks later.