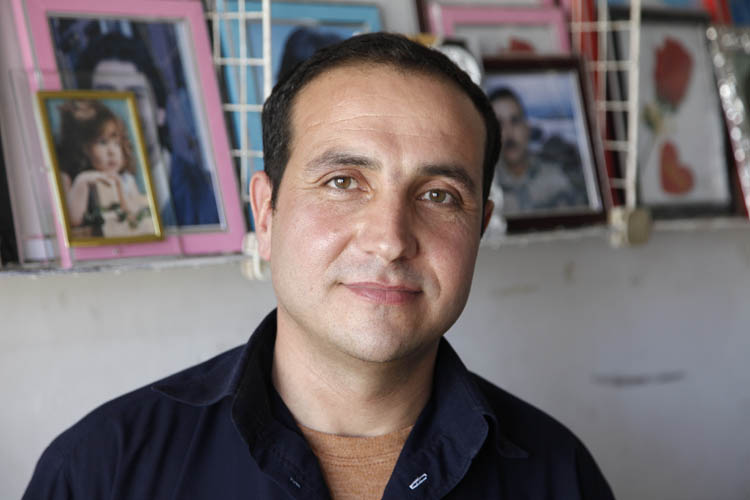 Sitting in his photo shop on a day off from studying at the medical faculty at Herat University, Sahel, 34, is explaining how a kamra-e-faoree works - which is how we come to learn the reason for having a clip on the paper box inside the camera.
"When moving around with the camera," he tells us, "the village people would often shove into you and knock the camera over - it was very common - many times the camera fell and the materials inside were mixed. The clip was for this."
Sahel used to travel in the districts around Herat taking box camera ID photos with his younger brother Ahmad. Sometimes they rode on a motorbike, other times a donkey would carry the cargo – and it was good business at twenty Afghanis for six photos or twelve for four.
He also made box cameras: smaller ones than the type he brought from Kabul when he returned home from working there seventeen years ago. These smaller box cameras took better photos, he claims. The lens was nearer to the focus plate, and around that time he first started to build them an improved fixer chemical arrived on the market - all making for a better photo.
Below are some photos of the more compact Herati box camera.
| | | |
| --- | --- | --- |
| | .. Courtesy of Aurel de st Andre ©. | |
During the civil war, Sahel worked in the capital: first in Pashtunistan Square, then when the fighting intensified, in Khairkhana where, he says, it was relatively safer. He was also working with large format photography at the time. In Kabul he would only ever buy a box camera from Ali Ahmad, a carpenter who was the most renowned maker of the camera in the capital, he says.
With digital photography, he's been working nine years.